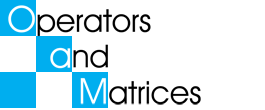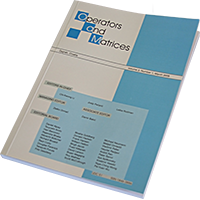 ABBREVIATION
OaM, Oper. Matrices
ISSN
1846-3886
AIMS AND SCOPE
'Operators and Matrices' ('OaM') aims towards developing a high standard international journal which will publish top quality research and expository papers in matrix and operator theory and their applications. The journal will publish mainly pure mathematics, but occasionally papers of a more applied nature could be accepted. 'OaM' will also publish relevant book reviews.

'OaM' is published quarterly, in March, June, September and December.
SUBMISSION
Original research and expository papers, dealing with subjects of operators and matrices, will be considered for publication. The acceptance of the article automatically implies the copyright transfer to 'OAM'. Manuscripts are accepted for review with the understanding that the same work has not been published (except in the form of an abstract), that it is not under consideration for publication elsewhere, that it will not be submitted to another journal, and that its submission for publication has been approved by all the authors. If material from other copyrighted works is included, the author(s) must obtain written permission from the copyright owners and credit the source(s) in the article.
SUBMISSION OF PAPERS
Manuscripts should be submitted electronically in PostScript or Adobe Acrobat PDF format to the 'OaM' Editorial Office through the provided web interface.
The author who submitted the article for publication will be denoted as a corresponding author. He/She manages all communication and correspondence with the 'OaM' regarding the article. Authors may indicate a member of the Editorial Board whom they consider appropriate for the article. However, assignment to that particular editor is not assured.
In order to facilitate refereeing, copies of those papers (whether by the author or someone else) which are essential and referred to in the manuscript but are not conveniently accessible, should be enclosed.
In order to submit a manuscript, you first need to login to the Ele-Math.com website. If you do not have an account you can create one by clicking here.
FORMAT REQUIREMENTS
Manuscripts should be written in English and preferrably using the LaTeX style.
A template with all the macros used in editing, together with a set of examples that use them can be found in the zip package available here:


Download the style package here.
PROOFS
When your manuscript is received by the Publisher, it is considered to be in its final form. Proofs are not to be regarded as 'drafts.' No changes to the accepted version is permissible without the explicit approval of the Editor. Two sets of proofs in PDF format will be sent by e-mail to the corresponding author, first to be checked for typesetting/editing, the second for confirmation of all edits after the first is applied. No changes in, or additions to, the accepted (and subsequently edited) manuscript will be allowed at this stage. Proofreading is solely the author's responsibility.
PAGE CHARGES, OFFPRINTS
There are no page charges. Authors will receive PDF file of the printed article free of charge. Additional offprints may be ordered from 'OaM' prior to publication.
Additional information
'OaM' is published by Publishing House Element d.o.o., Zagreb, Croatia. The publication of this journal is supported by Ministry of science, education and sports, Croatia.
All correspondence and subscription orders should be addressed to the Editorial Office:
Operators and Matrices
Editorial Office
Menčetićeva 2
10000 Zagreb
CROATIA
website: oam.ele-math.com
e-mail: oam@ele-math.com
Tel: (+385) 1 6008-700
Tel: (+385) 1 6008-701
Fax: (+385) 1 6008-799